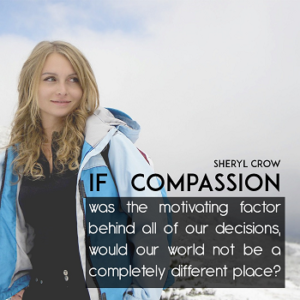 What are you passionate about today ladies? Please comment below if you're up to it. Passions change throughout the years right? I mean, when I was little, my passion was to go to Grandma's as often as possible. I was her first granddaughter and the apple of her eye. She bought me things and took me places, but mostly I remember how much she loved having me around.
I love this quote from Sheryl Crow . It's compelling. It is really worth a minute or two of meditation. Having compassion may be different than what you think. Dictionary definition:  sympathetic consciousness of others' distress together with a desire to alleviate it.
Maybe that's what you thought. I think the hard part about compassion is in how to best alleviate others' distress. Tough love? Drugs? Making them a meal? Paying their electric bill? Babysitting? Visiting those in nursing homes or hospitals? This may be worth another two minutes of meditation. 🙂
Being Compassionate May Better Our Health and Increase Our Lifespan 
According to Deepak Chopra, as part of a compassionate lifestyle, a person:
Lets go of judgment
Is more accepting of others
Appreciates how other people feel
Tries to help in difficult situations
Acts as a sympathetic listener
Renounces anger and aggression
Works to maintain a harmonious, peaceful atmosphere at home and at work.
In the same vein, research by David Rand at Harvard University shows that adults' and children's first impulse is to help others, not to compete with them. Other research by Dale Miller at Stanford's Graduate School of Business backs this up. Compassion involves feeling what someone else is feeling, which forms an invisible bond. But the bond is more than mental or emotional. Research in positive psychology suggests that connecting with others in a meaningful way helps us enjoy better physical health and speeds up recovery from disease; it may even lengthen our lifespan. Reasons enough to develop our capacity for compassion right?
I think Sheryl is on to something here. Our world needs to change in so many ways. I want to contribute to a positive change in our world for sure. Hope you do too. The video below is inspiring. Enjoy and…..
Thrive! OK?
Please follow and like us: