The MyPoints.Com Rewards Program is one of the best rewards programs going. I have been a member since September of 2008 and have earned over 250,000 lifetime points. Considering an average $25 gift card is around 3700 points, I could have received 67 gift cards valued at $1675. Even better, $50 and $100 gift cards are cashed in at a lower point cost, making points even more valuable!

So… if you decide to sign up, here's what happens. You receive an email called a MyPoints BonusMail. Whenever you see one of these, all you need to do is click on the GET POINTS button, let it download and collect 5 points. Then you can X out and it's done! If you are interested in the deal, you are usually given bonus points to take advantage of it. I have taken advantage of some good deals, but I mostly X out after the page loads.
The MyPoints.com Rewards Program Really, Really Rewards… Really
I have done so much of my Christmas shopping at the MyPoints.Com Rewards Program, cashing out the points and buying $25, $50 and $100 gift cards to give to friends and family. The thing I want to highlight here is THEY COST ME NOTHING! I earned the points on the program by buying things I already planned on buying, only I bought them through the MyPoints program.
Granted, they do advertise special deals. If you are a savvy shopper, this will cause you no problems. If you jump at everything you see, it could be a problem. You need to know yourself and act accordingly.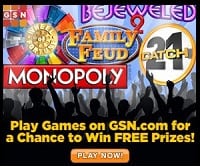 You can also play games at MyPoints.com and earn points for each game you play. If you have a little bit of a gambling itch, you can play GSN Cash games for cash prizes. There are quite a few different games to choose from, cash or token. Either way, you earn pts. when you play.

There are many retailers that are involved with MyPoints such as JCPenney, Wal-Mart and the Home Depot. Restaurants such as Longhorn, Panera Bread and the Olive Garden are in the program as well as the special services of FTD, ebay, and QVC. I have mentioned just a few of the businesses in the program. I'm sure some of your favorites are there.
The MyPoints.com Rewards Program is a definite winner in my book. I've been a member nearly 8 years now and it has become a part of the way I do business in the world. It doesn't cost me anything and I have considered it to be a blessing in my life through the years. So ladies! Don't let this one pass you by.
Thrive! OK? 
Please follow and like us: