Women Aging Gracefully – The Upside of Aging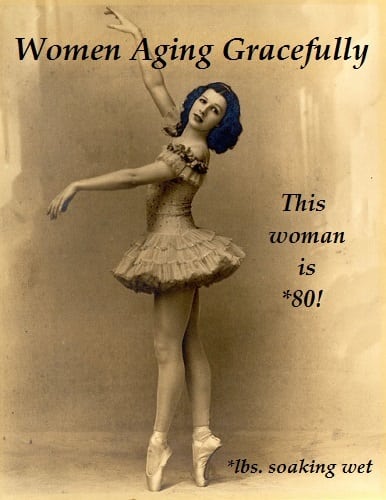 Getting older as a woman can be a real downer (everything seems to be going down…). Women aging gracefully is a popular Google search and for good reason. We want to know how to do it as everything seems to be falling….. Almost every single day, you can come across an article or blog post addressing all the things that can go wrong as you age. I've written about some on this site! But I have purposed to balance them with providing upsides too! Yes, there are a few! I'm not going to try and pass growing older off as a magical experience, but some real good times are there for you to experience if you'll take the time to look. Here are a few:
No More Periods!
Let's face it; periods were the time of month that you dreaded. You became irritable, moody and felt as bloated as a puffer fish. Cramps, mispositioned tampons, leaking through…. OK, maybe none of those things happened to you. And how about your husband… was he understanding? Did he know to stay at an arm's length during that time? Or better yet, sleep at a friend's?
By the time you approach your mid to late forties, you usually encounter the beginning of menopause (though it varies greatly from woman to woman). The period of menopause in itself might be pretty miserable; but once the symptoms cease and you stop seeing your monthly houseguest, life gets so much better.
No longer do you have to worry about it coming at the worst possible time, every month, bringing all its lovely benefits. And I'll bet you won't miss the pain and discomfort either! Oh yeah… how about the benefit of not having to use birth control! See… I told you there were a few!
You Don't Have to Worry About What You Wear
As a young woman, fashion critique is harsh, and often unforgiving. Women seem to eye each other up and down, assessing all the way. However, as you age, it's still the same hahaha. Seriously, things change a bit and this is probably because of three key factors:
You Learn What Works For Your Body – after years of trial and error, you have probably mastered what makes you look best, and flatters the shape of your body.
You Care Less What People Think – with age comes wisdom and confidence and you don't care as much as you used to about what people think of what you're wearing. I mean, now you can wear red hats with purple clothes and nobody thinks twice. If you've never heard of the Red Hat Society, take a look and see if it's for you. My mom belonged, and she and her friends had a great time!
People Don't Scrutinize You – luckily, people are not as harsh on older women's fashion choices compared to young women. People respect your choices, and may even come to you for fashion advice. When that happens, know that you've made it as a fashionista. (This will never happen for me as my black sweatpants are my fav!)

You Can Pursue Your Passion
When tasked with raising kids, running a home and possibly having a full-time job, the time that's left is hardly enough to get a decent bath and sleep. Thus, it's not strange for young to middle aged women to have a sense of discontentment with where they are at this point in their lives, as they have sacrificed themselves for the greater good. The last thing they want to do is look around at women aging gracefully, that's for later… much later.
As an aging woman, you likely have more time on your hands, as the kids are grown, house is less messy and requires less frequent cleanings, and you might not need to work outside the home anymore.
This leaves you ample opportunity to pursue your dreams, whether it be authoring a book, opening a business, earning a professional qualification or even climbing a mountain. The choices are endless.
You Have Higher Self Esteem
It's amazing to know that as we get older, we feel better about ourselves and care less about what other people think of us. This is the mindset that a woman needs, as strangely enough, women are cannibals to each other.
This seems to be true regardless of social class and wealth, and seems to have more to do with being mindful and self-appreciative. Make sure you live in the NOW and appreciate yourself for the unique person that you are. Remember, there is only one you, forever.
Better Sex
Don't listen to the dinosaurs who say that you have less sex as you age. Yes, while it is true that your hormone levels had a significant impact on your sex drive, that's not to say that your body does not still get by on a little of these hormones.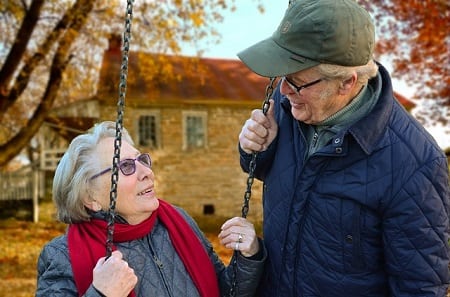 Many experts agree that the 50+ years can be some of the best sex years. Check out this article by Health.com, "8 Reasons Sex Is Better After 50".
You Become Smarter
Did you know that women aging gracefully includes becoming smarter? Scientifically, the neuronal connections in your brain strengthen, the two sides of your brain become more synergistic, and you have the ability to better retain memories. There is age-related brain decline, but there are things you can do to enhance brain health. You can be a wealth of valuable information for your children and grandchildren.
Listen! It is so easy to hop on the 'wtf train' if you concentrate on your youth slipping away in most areas. Aging is so natural, we know it's coming, and yet when the reality sinks in, that train comes rolling in. Don't get on it! (I am so preaching to myself!) Wait for the 'I'm going to be the best damn old person I've ever known' train, get on it, ride it to the end, and…..
Thrive! OK?

   
Please follow and like us: