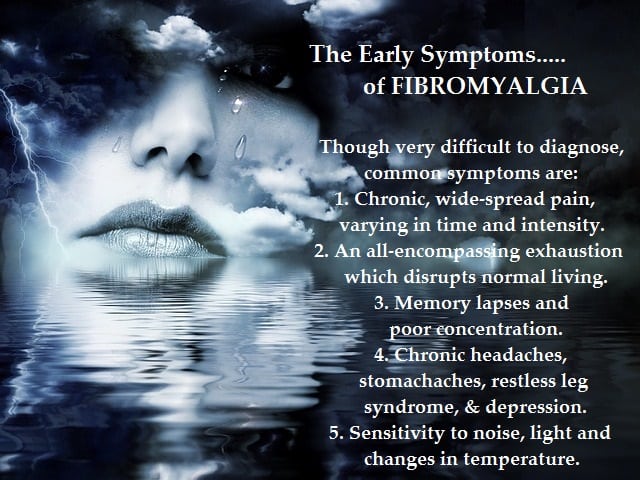 Although men and children can suffer and show the early symptoms of fibromyalgia, the disorder is most common among women. Eighty to ninety percent of those affected are women, and most are diagnosed sometime during middle age. You are more likely to develop fibromyalgia if you have a close relative with the disorder.
The Early Symptoms of Fibromyalgia?
One of the reasons that fibromyalgia is so difficult to diagnose is that it mimics so many symptoms of other diseases and disorders. It can parallel them to such an extent that it's difficult to acquire a diagnosis without undertaking medical tests to rule out other conditions.
Generalized Pain
Pain may occur anywhere over the entire body, making it difficult for medical professionals to diagnose the underlying cause. Especially vulnerable to pain are tender areas of the body such as the legs, arms, hips, neck and shoulders. Severe pain may occur when pressure is put on these points, much like pressing on a deep bruise.
Mental and Emotional Effects
Cognitive problems (also called "fibro fog") may occur with those suffering from fibromyalgia. Many sufferers of fibromyalgia become depressed or suffer severe anxiety as performing every day activities becomes increasingly difficult.
Headaches, restless leg syndrome and numbness of the hands and feet are also common symptoms.
Pain and Fatigue
Chronic pain and extreme fatigue are the most common complaints of fibromyalgia sufferers. Muscle spasms often accompany the fatigue and pain so that sleep or engaging in any activity becomes a major problem.
This can lead to sleep deprivation and inability to concentrate or perform day to day chores or engage socially with others.
Compromised Immune System
Over time, the combination of physical and mental symptoms can wear the patient down, leading to emotional issues such as depression.
The chronic nature of the condition can also have a negative impact on the immune system. It can render the body less able to defend itself against environmental effects.
This in turn means increased susceptibility to things like cold and flu viruses. It can also cause those conditions to last a lot longer. Also, the pain, discomfort, and feelings of lethargy of subsequent infections are more strongly experienced.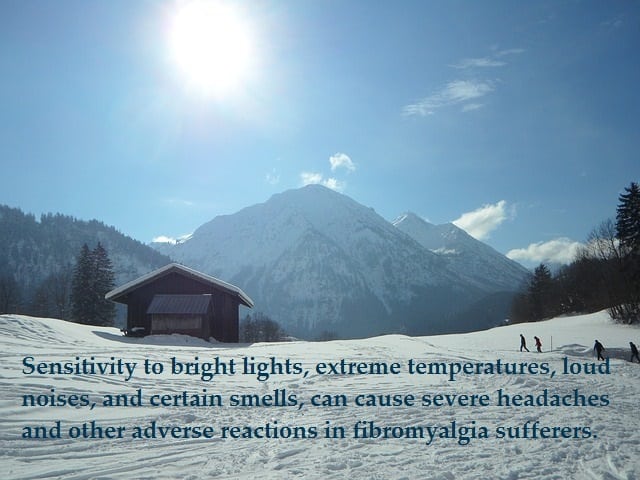 Sensitivity to a Wide Range of Stimuli
Sensitivity to touch is also a major complaint of those with the disorder. Even a light blanket might feel like a heavy weight on top of you. A layman's summary might describe fibromyalgia as causing hypersensitivity to most areas of existence. For the sufferer, this translates to unreasonable and persistent feelings of pain and discomfort.
The early symptoms of fibromyalgia are not always diagnosed or recognized as fibromyalgia. Depression, pain, exhaustion, memory lapses etc. are common, especially in women over 50. Take into consideration all the early symptoms of fibromyalgia, and then insist upon a test if there is a remote possibility. Your doctor can perform a test involving the touching of 18 'tender points' throughout your body.
There Is No Cure – New Treatment for Fibromyalgia 
Unfortunately, there is not a cure for fibromyalgia. Different methods are used to manage it. Hummingbird by Vital Motion is one such method. They completed product development on the Hummingbird about 8 months ago and launched sales about 3 months ago. You can read the testimonials of recent customers when you visit their site.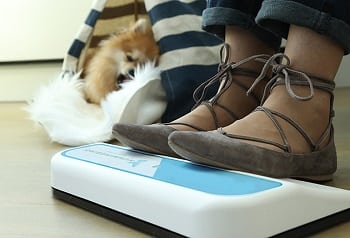 There is a 30-day, risk-free trial. Also, I was able to work out a free shipping offer with the company for my readers. All you need to do is use discount code "WomenOver50Thrive" at checkout to receive free shipping on your order!
I have no personal experience with fibromyalgia, but I know one person who does and she goes through hell. Hopefully, Vital Motion's Hummingbird can bring much needed relief to any who have need. I thought it a little ironic that I have a picture of a beautiful hummingbird as my site's main photo. Hopefully it's a sign of good things to come for my readers. Please let me know your results. Until then…..
         Thrive! OK?     
Please follow and like us: